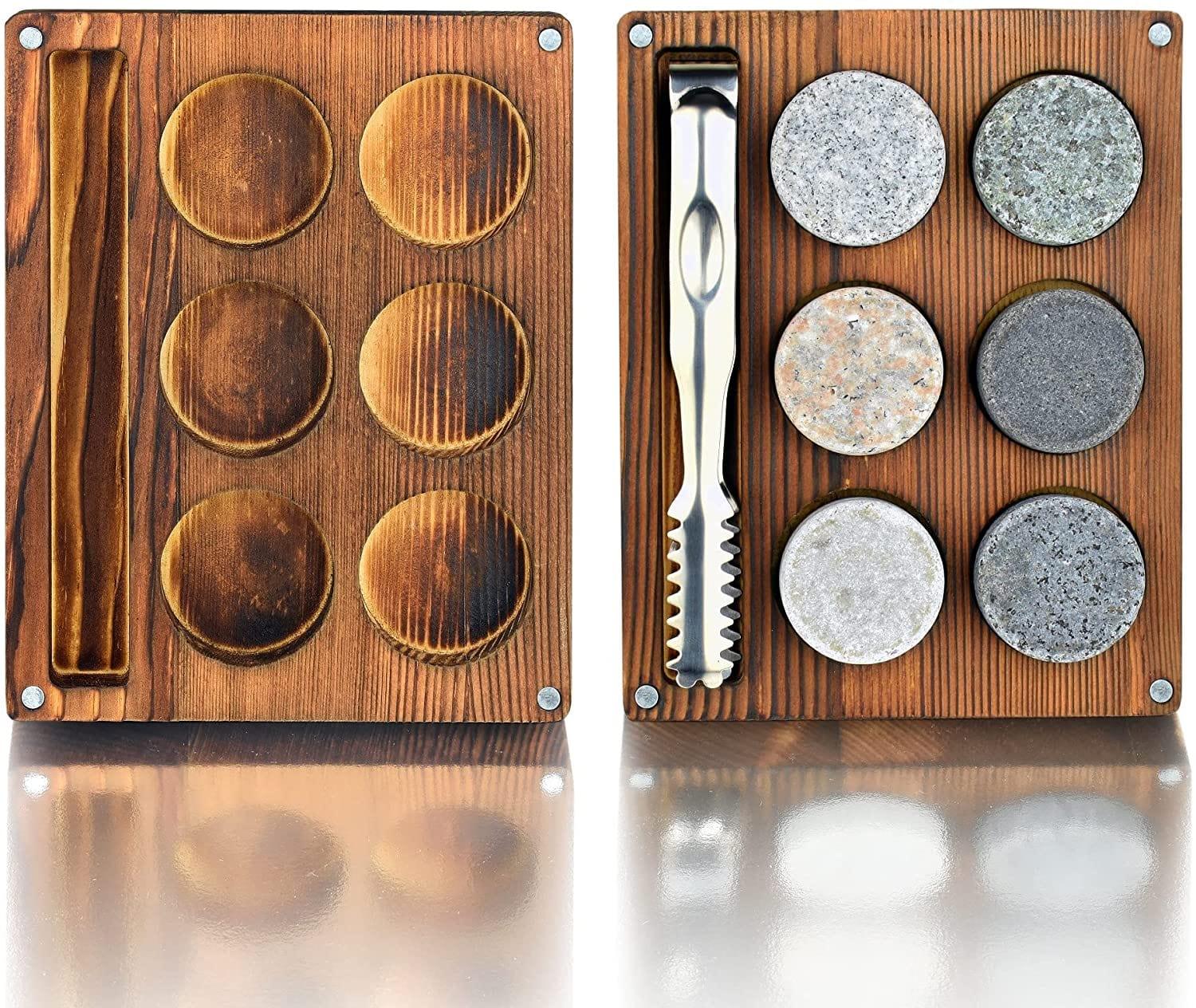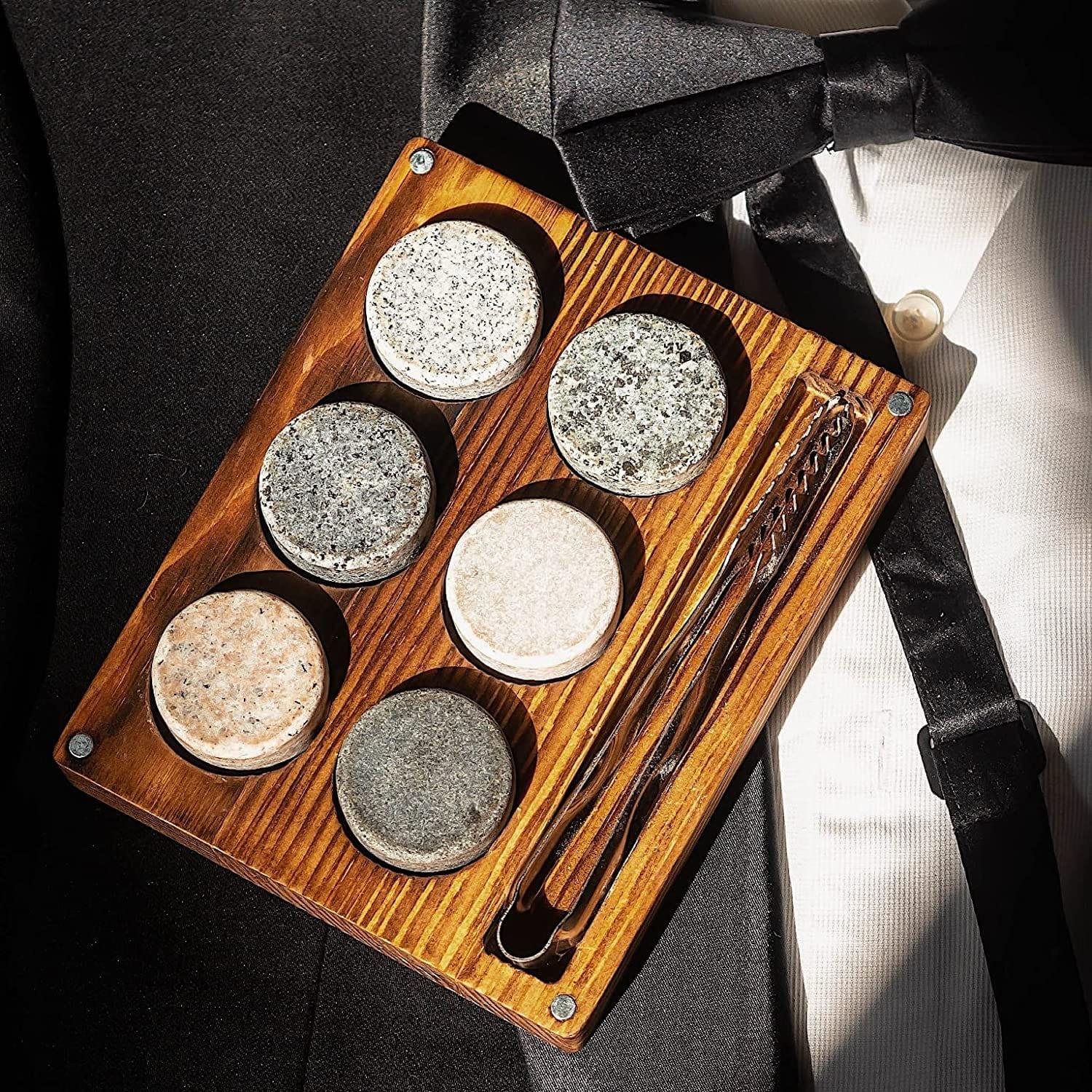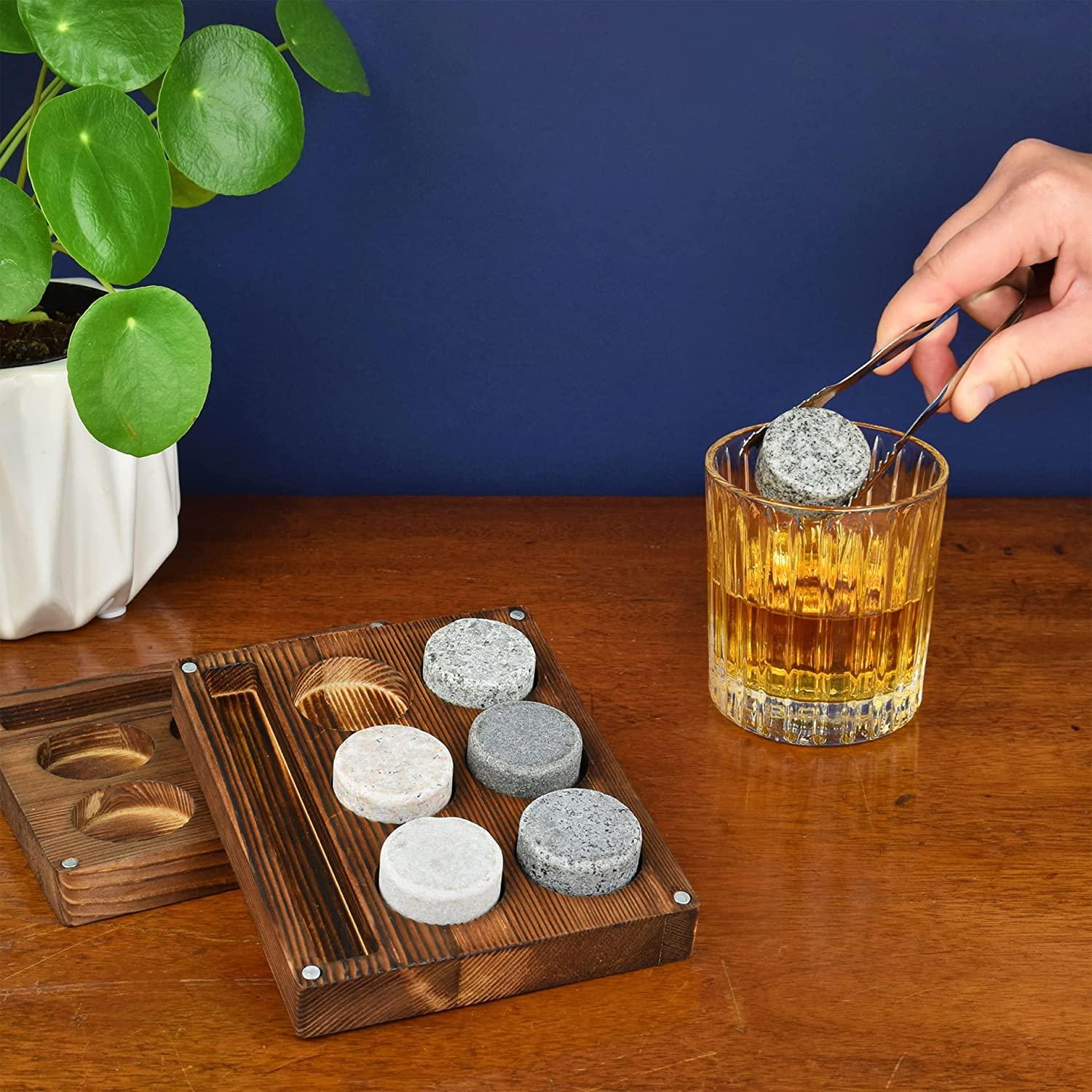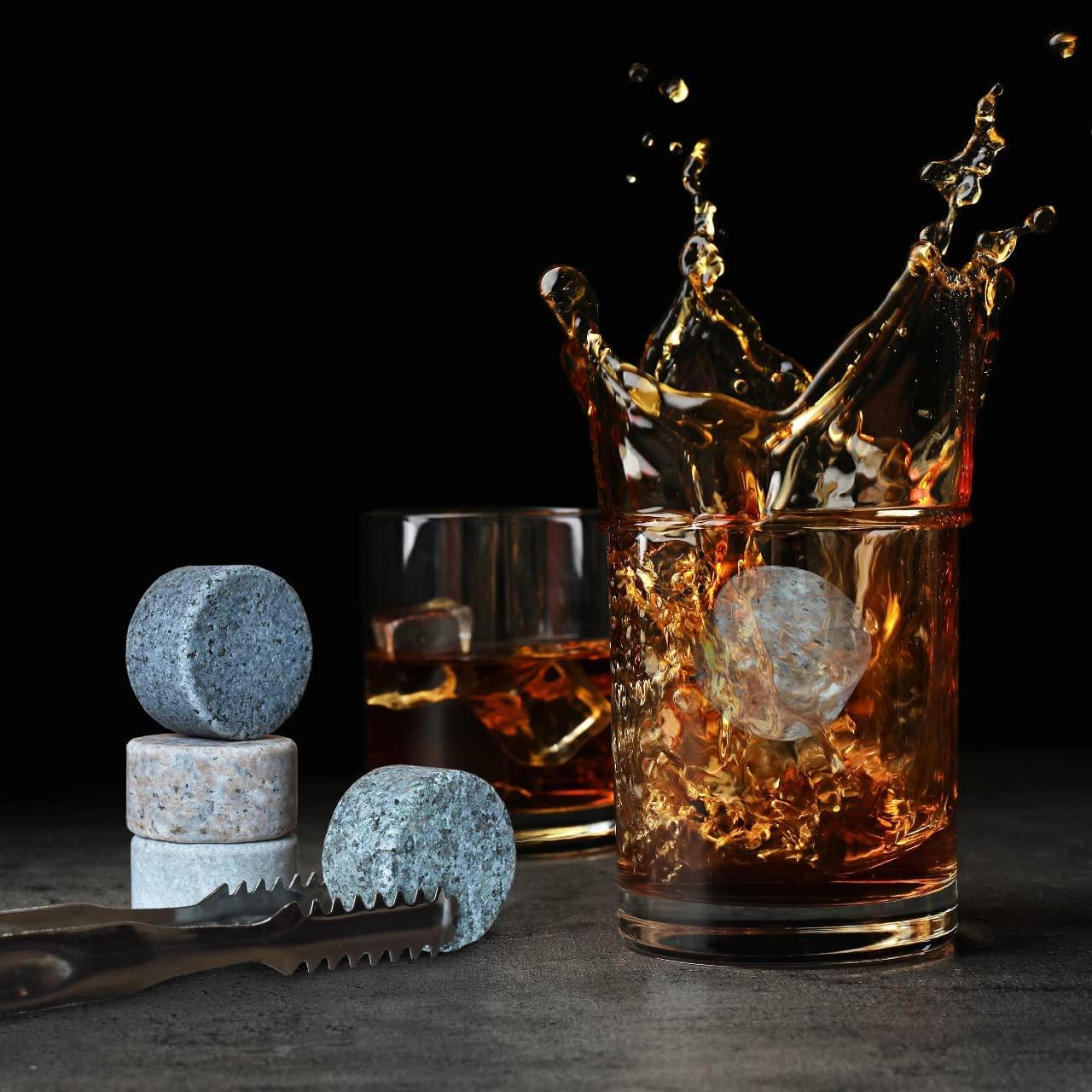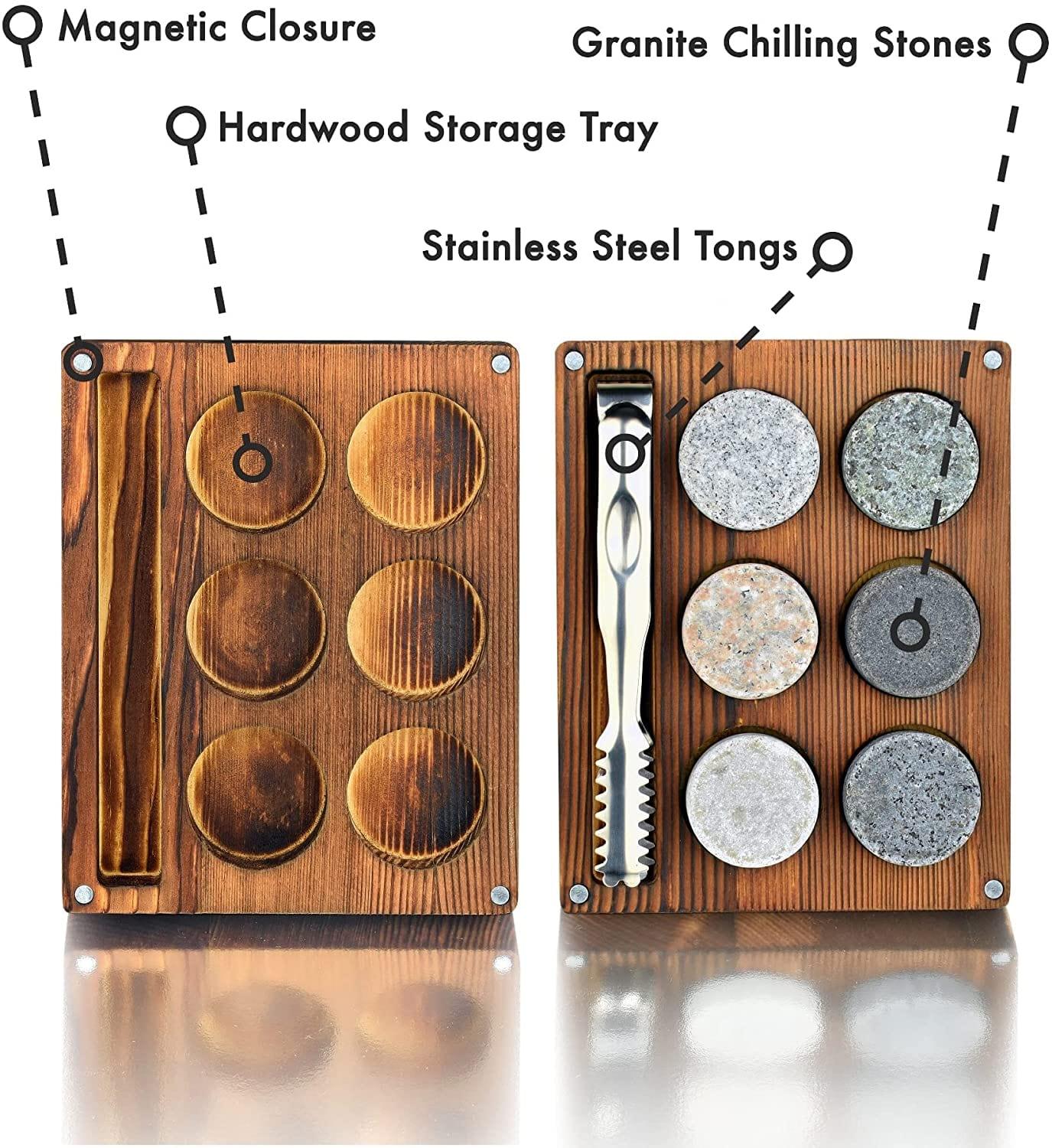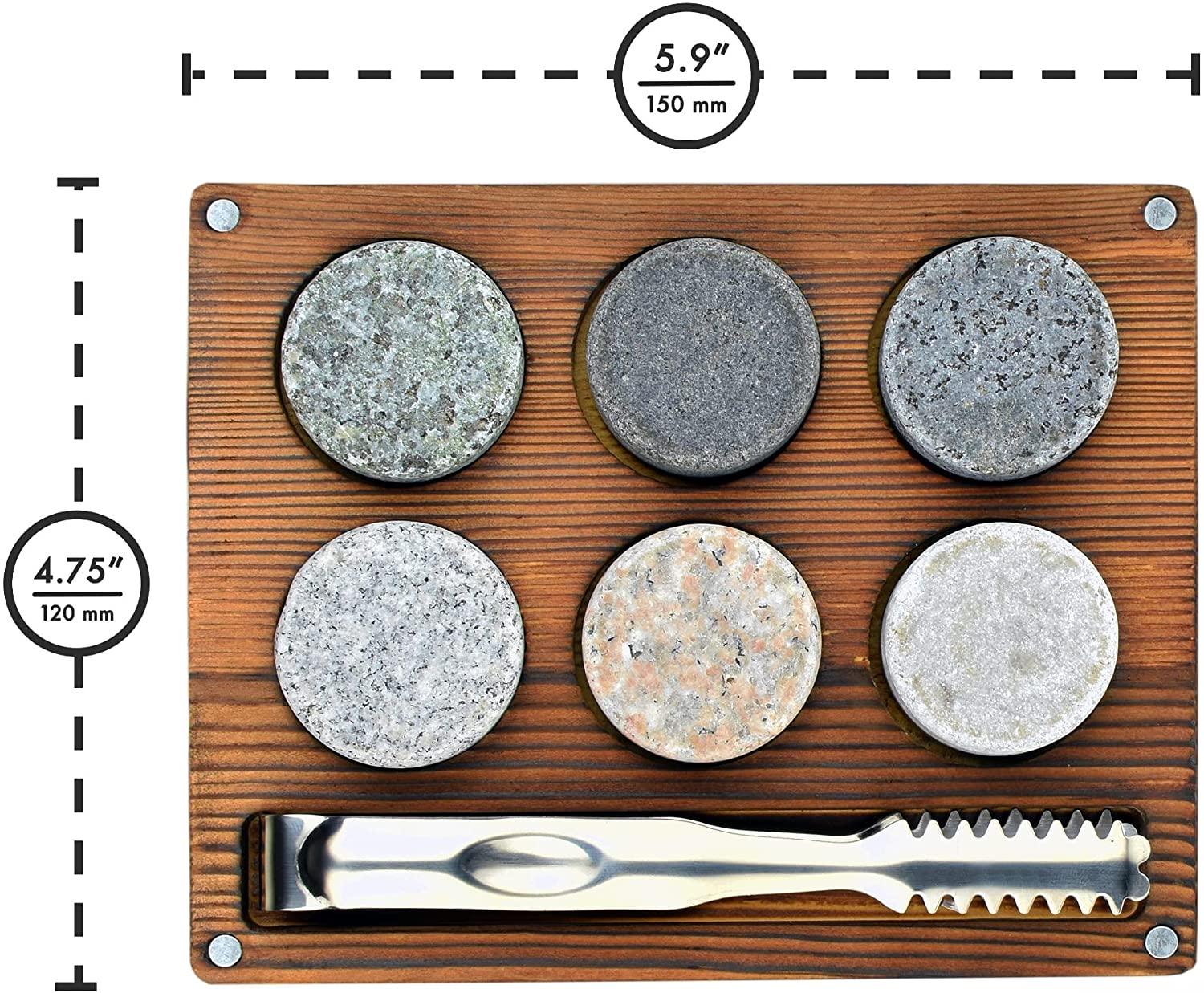 Whiskey Rocks Chilling Stones (Set of 6)
Sale price
$29.00
Regular price
$32.95
Set of 6 Whiskey Stones
Enjoy every sip of your favorite spirit to the fullest with the J&A Homes Whiskey Rocks Chilling Stones. This gift-ready set includes six stones drink rocks, an exclusive-design magnetic wooden storage case and tongs.

Natural Granite Whiskey Rocks
Chill your drink without watering down flavor with our set-of-6 sipping stones. The round whisky stone cube preserve any fine drinks unique flavor and quickly chills for the best sipping experience.

Exclusive Magnetic Case
Our exclusively original hardwood case makes it easily to ice the cubes in the freezer, while the powerful magnetic lid makes storage a supreme breeze. For a rugged look, the wooden pack has a burned finish.

Easy To Use Tong
The convenient tongs have a saw tooth edge to easily grip the smooth Whisky Stones. A mirror polished surface and grooved handle makes use safe and comfortable for the home bartender.

Loved By Connoisseurs
Give the gift of the perfect drink to your favorite person this holiday season! This premium Whiskey Stone Set is an unforgettable gift for Father's Day, Christmas, Valentine's Day, Birthday, or Anniversary.

We are based in Southern California, and ship to everywhere in the Continental US. Expedited shipping is free for all Continental US orders over $75.
All orders are sent via USPS, UPS, FedEx or Amazon Logistics for Continental US destinations.
Orders placed on our website are processed for delivery within 3 business days. If you purchased your order during or after a sale period, please allow up to 5 business days for processing and packing. Once your order is dispatched you will receive shipping confirmation and tracking details. 
Urgent Orders
We know that sometimes you need something in a hurry. If you need your products urgently please select "EXPRESS" at checkout. 
If ordered prior to 11am PST, we can dispatch your order on the same working day. Please note, all oversized items (Runners, Umbrellas, Easels) may still be dispatched the next working day due to size on these products.
Standard Shipping
Allow 5 - 7 business days after dispatch notification for your item to arrive.
Expedited Shipping
Allow 2 - 3 business days after dispatch notification for your item to arrive.
Express Shipping
Allow 1 - 2 business days after dispatch notification for your item to arrive.
* Please note that COVID-19 delays may apply, so if you need your order urgently please contact our team.
We want you to be completely satisfied with your purchase and experience with JAHomesUS. Our team are always on hand to discuss your needs, and you can process returns through our online system. 
Our policy lasts 30 days from delivery of your products. If 30 days have gone by since the delivery of your purchase, unfortunately we cannot accept a return. To be eligible for a return, your item must be unused, with tags still attached, and in original condition. It must also be in the original packaging.
We accept both refunds and exchange for store credit within the 30 day period. 
You may return your order within 30 days from the date of delivery. Email <enjoy@jahomes.us> with your order ID to complete a refund request.
Please note we cannot accept refunds on; RUNNERS
Products available for store credit only (no refund); UMBRELLAS, EASELS
Refunds on full price items
Once you've emailed us a return request, please allow 5 working days for it to be processed. Please note refunds can only be processed back to the original payment method. Please allow up to 7 days for the refund to appear back in your account once you finalize the returns process.
Refunds are available for products purchased at full price (even if purchased during a promotional period). A refund will be processed for the amount paid for the product.
Return of umbrellas & easels
If you change your mind about these products, a store credit will be processed for the amount paid for the product. We cannot offer refunds on these products.
Return of runners
Due to health and safety reasons, we cannot accept return requests on runners.
Postage
We will provide pre-paid postage to send items back to us.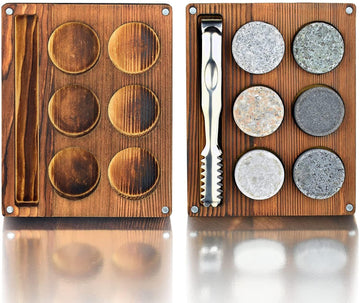 Whiskey Rocks Chilling Stones (Set of 6)
Sale price
$29.00
Regular price
$32.95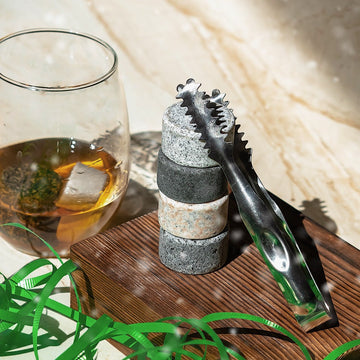 On The Rocks
The Way It Should Be
Raise a glass to the Whiskey Stones, a set of 6 polished chilling rocks sure to upgrade the way you sip. A true aficionado loves their choice of fine spirits "on the rocks" and the premium chilling stones allow anyone to enjoy the purest flavor of every sip. Each handcrafted set includes 6 unique colors of granite stones with a magnetic wooden storage case and convenient tongs. They won't crack or break like ice cubes can, and they won't affect the flavor of your drink like traditional ice does.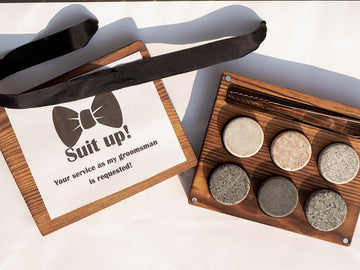 Burned Wood Case
Unique Magnetic Closure
Our whiskey stones aren't just functional - they're also stylish. Store the beautiful stone set in the rugged wooden storage case with rich burned finish and carved storage tray. The powerful magnetic lid makes it easily to store the stones in the freezer until your next drink is ready.

To use, simple wash the stones before placing in the hardwood tray and store in the freezer overnight or at least 3 hours. Add 1 or 2 rocks to your glass before pouring your favorite drink over to chill, and enjoy!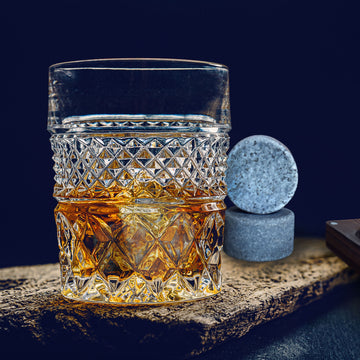 True Aficionado Will Love
Perfect Drinks At Any Party
Give the gift of the perfect drink for any holiday, Christmas, Birthday, Valentine's Day, Anniversary, Father's Day, housewarming gift, or Bachelor party. Connoisseurs of Bourbon, Whiskey, Rum, Vodka, or Gin will appreciate upgrading their sipping experience.
Chilly
Bought these for my stepson and my girlfriend's husband- they love them. Chill in freezer and throw in your drink. Keeps drinks cold and you don't have to worry about the stones watering down your drinks.
Dee A.
Chill without watering down your booze
Want your bourbon cold without watering it down? For a while BIG ice cubes were all the rage. The single large ice cube reduced surface area supposedly reducing the amount of water diluting your booze... but still your booze was being diluted... Here's a better solution.
Jared M.
Work better than expected
I was genuinely surprised at how well 3 of these cooled a "tall drink". One or two in a wee dram is sufficient to get the right bite.
Les G.
Extremely pleased
Happy with my purchase!! I can actually taste my favorite blended whiskey now. Way better than watering it down with ice!! They chill your drink perfectly!
Eli M.
Cute Gift
I got these for my brother in law for Christmas a couple of years ago, he likes quirky little gifts like that. It was a nice gift, and he definitely uses them.