A classic wedding style is timeless, which means it doesn't go out of trend or style and works all year round. To make this possible, everything about it should be able to stand the test of time so that when you get to look back at the pictures from your wedding in years to come, there would still be something cool about it without any absurdity. 
When it comes to wedding décor, anything too rugged, extravagant, rustic, or flashy is out of the list. The idea is to keep everything simple yet elegant, chic, and sophisticated. Simple isn't necessarily dull, especially if you stick to the rules. Nevertheless, if you are unsure what wedding decors will add some elegance to your wedding space, we have put together five decor ideas plus extra to make it easy for you. Continue reading to find out more.
Elegant silver or glass candelabras
Candelabras are a replacement for large vases because of their versatility and they do not take up much space on the table. If you want to conceptualize your wedding in a classic theme where lights, flowers, and subtle colors make up the ideal focal point, candelabras will add quite a scene to the mix. 
Whether you intend to fill it up with flowers or a cluster of bright perennials, you can style them however you like to suit your wedding theme and add some luxury to your overall décor.  
Oversized letters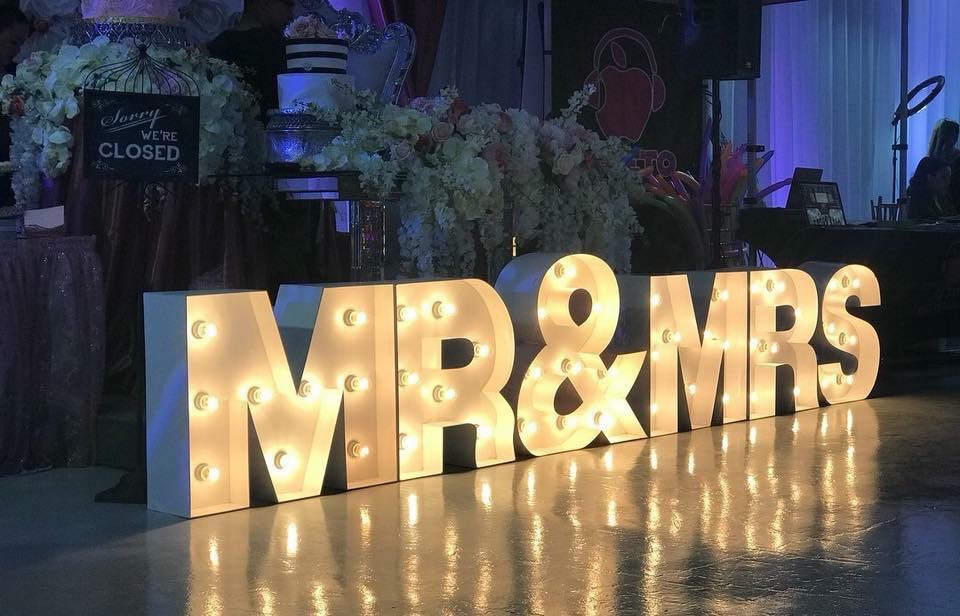 Almost every modern weddings we attend in recent times have a décor of giant oversized letters of the word 'love' 'celebrate' 'Mr. & Mrs' or the couple's name and most times, just their initials. This is a trend that isn't over the top or too extravagant; hence, it fits seamlessly into a classic wedding theme. Depending on the size you want, some letters are almost as big as you are, and sometimes, even bigger.
These giant or oversized letters not only add fun to your wedding décor but also create the perfect backdrop for pictures. Like candelabras, oversized letters are beautifully versatile, plus they will redefine just any area you place them and attract the guests there as well- after all, every wedding guest wants the perfect picture background. For indoor settings, ensure that they have lights that will add more effects to the space where they are placed.
If you are opting for a minimalist wedding, you get creative by making your oversized letters as opposed to spending much on hiring or buying them. You can achieve this with cardboards or foam boards, a utility knife, LED or Christmas lights or board/wallflowers, a hot glue gun, and spray paint.
Flower walls
As the name implies, a flower wall is a large wall decorated with flowers to create an effect in your wedding space. Subtle colors are the keywords for floral arrangements for a classic wedding. Flowers can become too overwhelming if not done right; hence gold, peach, pink, white, silver, and a few other colors that are not over the top will beautifully accentuate the walls of your wedding space, especially as the backdrop. While flower walls are beautiful and add color and life to your wedding space, always remember that they should refer to your wedding colors and bouquet.
The best thing about flower walls is that you can get creative by writing down words with them or arranging them in a distinct manner that attracts the eye of everyone who walks into the wedding space.
Votive candle holders
Votive candles are perfect décor for classic weddings, adding some extra glow and vibes to them. While the candles may seem too much for some people, clear votive holders can make all the difference, transforming the décor from traditional to something stunning and classic. Votive candle holders come in different colors and styles and improve the burn time of the candle so that it doesn't burn out before your event comes to an end. 
Additionally, with votive holders, the candles won't make a mess on the table as they burn and you can always reuse the glass after the wedding or even allow your guest to take them home as a memorable souvenir.
Aisle runner 
Indoor or outdoor, an aisle runner will add some classic setting to your wedding décor, so that you can walk down as you've always imagined and take the vows with your significant other. Apart from the elegance and charm an aisle runner adds to your wedding space, it protects your dress from being stained or ripped and adds some visually-appealing aesthetics to your wedding pictures. 
The good thing about aisle runners is that you can find them in colors that complement the entire wedding décor. For extra effects, line the edges of the aisle runner with floral petals but don't go overboard with the colors.
If you are looking to get an aisle runner, Business Insider's award for "best aisle runner" goes to Wedding Supplies. This goes to show that J&A Homes has just the right aisle runner for every bride. Our white wedding aisle runner is made of non-woven fabric with a classic floral scroll pattern which adds a touch of elegance to any wedding. Its white color is one outstanding feature that makes it suitable for just any ceremony because it will always blend in well with any color palette. So, no matter your color scheme, a white wedding aisle runner works perfectly. 
It is great for all surface types, so it doesn't matter if your wedding is indoors or outdoors; our durable 40gsm fabric would do fine. And as a bonus, the runner includes double-sided tape that can easily adhere the fabric to surfaces such as hardwood, brick, tile, or concrete.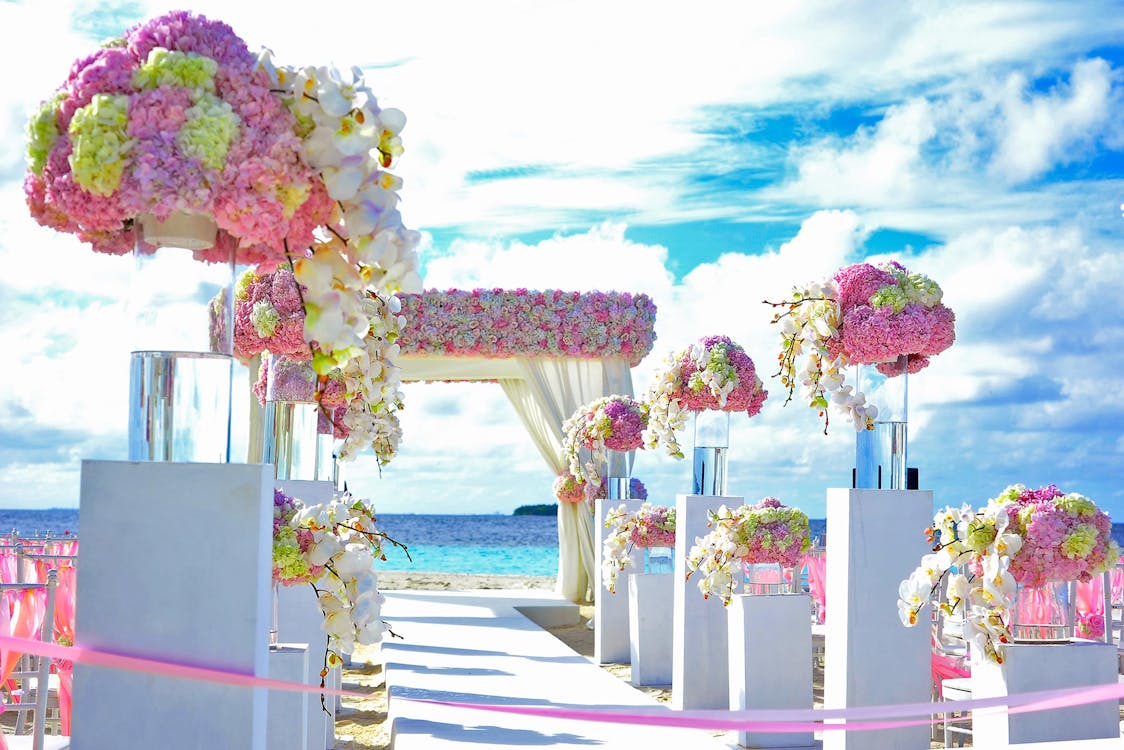 You don't have to worry about setting this up, Wedding Aisle Runners For Outdoor Weddings features an adjustable hitch and braided nylon cord for easy rollout and setup. If the runner is too long, simply use a pair of scissors to trim it to the desired length. It's just that simple! 
The sophisticated scroll design and easy setup of the J&A Homes wedding aisle runner make it the perfect decoration for prom, birthdays, or parties., not just for weddings. 
Tips for creating a classic wedding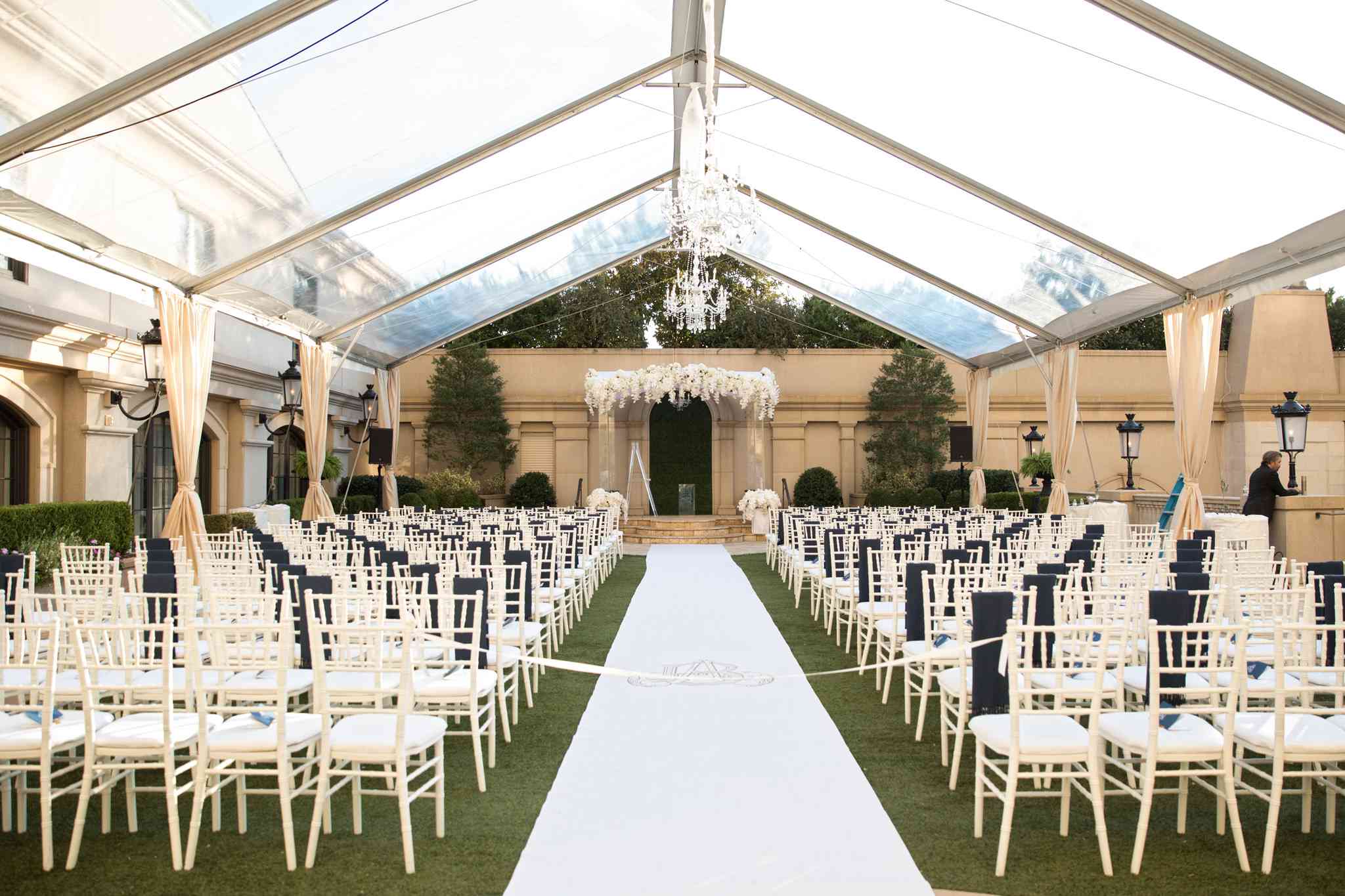 Planning your wedding celebration isn't something that should be done in haste, especially since you won't want to look back in a few years and wish you had made better choices for your outfit, venue, décor, etc. So, we have taken the liberty to give you a few tips on how to make your wedding classic, unique, and romantic at the same time.
Define your style
Whether you and your significant other already have an idea of what kind of wedding you like or want, it is still necessary to define your style as it will make every step of the planning and preparation somewhat easy. Create time to go through different wedding inspirations together and choose what works best for the both of you. These inspirations can come from Pinterest, Instagram, magazines, and other wedding websites. 
Go for subtle colors and simple designs
A classic wedding isn't over the top with colors and extravagance instead, the beauty comes from the simple yet elegant pieces put together. For colors, lilac, white, assorted pinks, black, blue, gold, mauve, gray, green, and muted jewel tones will do just fine. But this doesn't mean that you can't take risks with other bold colors; just don't let the colors you select take the focus away from you and your partner.
Also, the color palette you choose will influence other decisions like your invitation design, décor, and outfits.
Choice of venue
Indoor or outdoor, your wedding venue should have features that will complement your décor and even if it doesn't, at least you should be able to transform the space. The good thing about classic themes is that it works for almost any type of space, especially banquet halls, hotels, ballrooms, country clubs, estates, courtyards, etc.
Wedding attire 
For a bride, the wedding dress is influenced by the venue or vice versa. For instance, a ball gown, although fancy, wouldn't be ideal for a beach wedding. While you may want to choose something that works well with your classic theme, ensure that you are head over heels for your outfit and most importantly, comfortable in it.
Select your vendors
Family and friends may offer their expertise for various aspects of your wedding either for free or at a discount. If they don't understand your wedding vision, look for other options or vendors that clearly understand it- well, unless you are on a budget and there are no other budget-friendly options.
Conclusion 
Your wedding is one of the biggest celebrations of your life and the décor is the perfect way to reflect the uniqueness and beauty of what you and your significant other shares. Every couple has a vision and ideas of how they want their wedding day to look like and the décor isn't left out. But before launching any of these ideas, remember that simple is better if you want to make your wedding ceremony classic. So, while you are looking to incorporate every idea that comes into your mind or décor you find amazing, ensure that each detail can stand the test of time.